Shelley Barnhill water color
studied art at Southwest Texas State University (now Texas State University).
The locust tree is in my garden on Alvamar Drive where I have a love/hate relationship with it. The thorns have pricked me when I work in the garden. Can you find the drop of blood on one of the thorns? The tree is a female tree and drops many, many beans every fall that have to be raked up. But the tree shades the garden and the house from the sun and I like to watch the tree trunk change gray to green with the weather.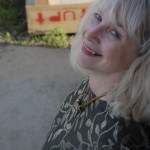 Now living in Lawrence KS, she returns to painting after a thirty year pause to join her friend, Maureen Carroll, in this wonderful project of "the tree book." Shelley chose to paint a close-up view of the sharp thorns of the locust as a contrast and counterpoint to the sensuous, smooth magnolia tree blossoms by Bobbie Powell.